WELCOME to the Oct 2004 edition of the Shalomindia.com E-Info Service.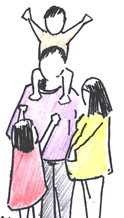 Truly, truly, I say to you, he who hears My word, and believes Him who sent Me, has eternal life, and does not come into judgment, but has passed out of death into life (John 5:24).
---
Allow Your Own Inner Light to Guide You
There comes a time when you must stand alone.

You must feel confident enough within yourself to follow your own dreams.

You must be willing to make sacrifices.

You must be capable of changing and rearranging your priorities so that your final goal can be achieved.

Sometimes, familiarity and comfort need to be challenged.

There are times when you must take a few extra chances and create your own realities.

Be strong enough to at least try to make your life better.

Be confident enough that you won't settle for a compromise just to get by.

Appreciate yourself by allowing yourself the opportunities to grow, develop, and find your true sense of purpose in this life.

Don't stand in someone else's shadow when it's your sunlight that should lead the way.

---
Seeing The New Reality

It was said that the great Michelangelo attracted a crowd of spectators as
he worked. One child in particular was fascinated by the sight of chips
flying and the sound of mallet on chisel as the master shaped a large block
of white marble. Unable to contain her curiosity, the little girl inquired,
"What are you making?" Pausing, he replied, "There is an angel in there and
I must set it free."

Faith is seeing the new reality and working to set it free. It is seeing the
reality of God's kingdom and working with the Holy One to create the new
heaven and earth.

---
Life after Death
Jesus wasn't vague or indefinite about the reality of a continuing personal existence after death. He said, "Do not fear those who kill the body but cannot kill the soul. But rather fear Him who is able to destroy both soul and body in hell" (Matthew 10:28). Jesus promised Paradise to the repentant thief who was dying at His side, but He also used the Valley of Hinnom--a foul garbage dump outside of Jerusalem--as a symbol of what awaits those who insist on risking the judgment of God. According to Jesus, facing the reality of life after death is the most significant issue of life. He said, for example, that if an eye keeps you from God, you have reason to get rid of that eye. "It is better for you to enter the kingdom of God with one eye than to have two eyes and be thrown into hell" (Mark 9:47 NIV).
---
Victory over Death

JOH 8:51 Verily, verily, I say unto you, If a man keep my ( Jesus') saying, he shall never see death
JOH 5:24 Verily, verily, I say unto you, He that heareth my word, and believeth on him that sent me, hath everlasting life, and shall not come into condemnation; but is passed from death unto life.

ROM 5:10 For if, when we were enemies, we were reconciled to God by the death of his Son, much more, being reconciled, we shall be saved by his life.

ROM 5:12 Wherefore, as by one man sin entered into the world, and death by sin; and so death passed upon all men, for that all have sinned:

ROM 6:4 Therefore we are buried with him by baptism into death: that like as Christ was raised up from the dead by the glory of the Father, even so we also should walk in newness of life.
ROM 6:5 For if we have been planted together in the likeness of his death, we shall be also in the likeness of his resurrection:

ROM 6:9 Knowing that Christ being raised from the dead dieth no more; death hath no more dominion over him.

ROM 6:23 For the wages of sin is death; but the gift of God is eternal life through Jesus Christ our Lord.

ROM 7:5 For when we were in the flesh, the motions of sins, which were by the law, did work in our members to bring forth fruit unto death.

ROM 7:13 Was then that which is good made death unto me? God forbid. But sin, that it might appear sin, working death in me by that which is good; that sin by the commandment might become exceeding sinful.

ROM 7:24 O wretched man that I am! who shall deliver me from the body of this death?

ROM 8:2 For the law of the Spirit of life in Christ Jesus hath made me free from the law of sin and death.

ROM 8:6 For to be carnally minded is death; but to be spiritually minded is life and peace.

ROM 8:38 For I am persuaded, that neither death, nor life, nor angels, nor principalities, nor powers, nor things present, nor things to come,

CO1 11:26 For as often as ye eat this bread, and drink this cup, ye do shew the Lord's death till he come.

CO1 15:21 For since by man came death, by man came also the resurrection of the dead.

CO1 15:26 The last enemy that shall be destroyed is death.

CO1 15:54 So when this corruptible shall have put on incorruption, and this mortal shall have put on immortality, then shall be brought to pass the saying that is written, death is swallowed up in victory.

CO1 15:55 O death, where is thy sting? O grave, where is thy victory?

CO1 15:56 The sting of death is sin; and the strength of sin is the law.

COL 1:22 In the body of his flesh through death, to present you holy and unblameable and unreproveable in his sight:

CO2 7:10 For godly sorrow worketh repentance to salvation not to be repented of: but the sorrow of the world worketh death.

TI2 1:10 But is now made manifest by the appearing of our Saviour Jesus Christ, who hath abolished death, and hath brought life and immortality to light through the gospel:

HEB 2:9 But we see Jesus, who was made a little lower than the angels for the suffering of death, crowned with glory and honour; that he by the grace of God should taste death for every man.

HEB 2:14 Forasmuch then as the children are partakers of flesh and blood, he also himself likewise took part of the same; that through death he might destroy him that had the power of death, that is, the devil;

HEB 2:15 And deliver them who through fear of death were all their lifetime subject to bondage.

HEB 5:7 Who in the days of his flesh, when he had offered up prayers and supplications with strong crying and tears unto him that was able to save him from death, and was heard in that he feared;

HEB 11:5 By faith Enoch was translated that he should not see death; and was not found, because God had translated him: for before his translation he had this testimony, that he pleased God.

JAM 1:15 Then when lust hath conceived, it bringeth forth sin: and sin, when it is finished, bringeth forth death.

JAM 5:20 Let him know, that he which converteth the sinner from the error of his way shall save a soul from death, and shall hide a multitude of sins.

JO1 3:14 We know that we have passed from death unto life, because we love the brethren. He that loveth not his brother abideth in death.

REV 1:18 I am he that liveth, and was dead; and, behold, I am alive for evermore, Amen; and have the keys of hell and of death.

REV 2:10 Fear none of those things which thou shalt suffer: behold, the devil shall cast some of you into prison, that ye may be tried; and ye shall have tribulation ten days: be thou faithful unto death, and I will give thee a crown of life.

REV 2:11 He that hath an ear, let him hear what the Spirit saith unto the churches; He that overcometh shall not be hurt of the second death.

REV 9:6 And in those days shall men seek death, and shall not find it; and shall desire to die, and death shall flee from them.

REV 12:11 And they overcame him by the blood of the Lamb, and by the word of their testimony; and they loved not their lives unto the death.

REV 18:8 Therefore shall her plagues come in one day, death, and mourning, and famine; and she shall be utterly burned with fire: for strong is the Lord God who judgeth her.

REV 20:6 Blessed and holy is he that hath part in the first resurrection: on such the second death hath no power, but they shall be priests of God and of Christ, and shall reign with him a thousand years.

REV 20:13 And the sea gave up the dead which were in it; and death and hell delivered up the dead which were in them: and they were judged every man according to their works.

REV 20:14 And death and hell were cast into the lake of fire. This is the second death.

REV 21:4 And God shall wipe away all tears from their eyes; and there shall be no more death, neither sorrow, nor crying, neither shall there be any more pain: for the former things are passed away.
---
Work hard at what you like to do and try to overcome all obstacles

Laugh at your mistakes and praise yourself for learning from them

Pick some flowers and appreciate the beauty of nature

Say hello to strangers and enjoy the people you know

Don't be afraid to show your emotions laughing and crying make you feel better

Love your friends and family with your entire being they are the most important part of your life

Feel the calmness on a quiet sunny day

Find a rainbow and live your world of dreams always remember life is better than it seems
---
Prayer Requests
===============
Please contact us for your prayer requests at
http://www.shalomindia.com/prayer.php
Read & search online Holy Bible at http://www.shalomindia.com/bible.html
---
Today's Bible Verse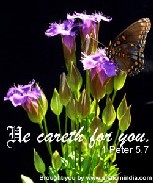 CO1 15:57 But thanks be to God, which giveth us the victory through our Lord Jesus Christ.

JO1 5:4 For whatsoever is born of God overcometh the world: and this is the victory that overcometh the world, even our faith.

This E-Info Service is from:
Shalomindia.com Faith Ministry, Mumbai, INDIA.
http://www.shalomindia.com

Read this news letter online at http://www.shalomindia.com/newsletter/oct04.htm
---
(c) Copyright 1998-2004 Shalomindia.com
---