WELCOME to the MAY - 2005 edition of the Shalomindia.com E-Info Service.
You can send us inspiriting messages or testimonies to share among our readers...
Most of the messages are collected from various spiritual e-articles, books and religious sites. If you find any copyright matter, kindly inform us to remove from the site.

---
Consider the ravens: they neither sow nor reap, ...
they have neither storehouse nor barn, and yet God feeds them. Of how much more value are you than the birds!" (Luke 12:22-24 )

It is a large bird, considerably larger than the crow; and its feathers are very black, very glossy, and very beautiful. People in ancient times seem to have liked a black color, and were especially pleased with black hair; so we read in the Song of Solomon, where one who is beautiful is described, "His locks are bushy, and black as a raven."


The raven drives out its young ones very early from the nest, almost before they are able to seek their food. This may explain a verse in the Psalms, "The Lord giveth to the beast his food, and to the young ravens which cry;" and another in Job, "Who provideth for the raven his food ? when his young ones cry unto God, wandering for lack of meat."

Our Savior speaks of this bird in the 12th chapter of Luke, "Consider the ravens; for they neither sow nor reap; they have neither store-house nor barn; and God feedeth them." He was speaking to his disciples, and it was as much as to say, "If God takes care of the ravens, he will certainly take care of you; so you need not be anxious or afraid.

Consider the ravens: they neither sow nor reap, they have neither storehouse nor barn, and yet God feeds them. Of how much more value are you than the birds!" (Luke 12:22-24 RSV)

The Raven was an unlikely and unusual instrument of God's care and mercy. Consider the Word of God concerning the Prophet Isaiah while he was fleeing persecution...I KINGS 17:2-6.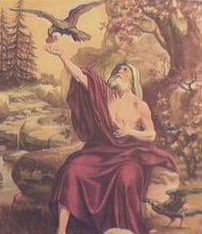 Unusual because only God in his grace and mercy could use such a creature in a productive way to bring a blessing to the needy one that is beloved of God. The Raven is unworthy of such an honorific assignment ...just like us.
Even so, God still uses the creature as an instrument of His love.

The Raven is a constant reminder of who we were, and by God's grace, who we are now. Because of Christ each of us can say " I am an instrument in the hand of God to be used for His glory" It is a privilege that none of us deserve. It is solely due to the work that He has dome (and continues to do) in each of us that makes anything good in us possible. See -Romans 8:7 Romans 5:10,11

God's Word is a balm to our short-sighted, fearful minds ...God still cares for the Raven and his family and supplies all their needs ... and He still does.

Question... Job 38:41 "Who prepares for the raven its nourishment when its young cry to God and wander about without food?

Answer... Luke 12:24 Consider the ravens, for they neither sow nor reap; they have no storeroom nor barn, and yet God feeds them; how much more valuable you are than the birds!
Jesus Christ used ravens in a lesson about setting priorities in life - obey God first, foremost and always; then take care of worldly needs.
Martin Luther wrote: "You see, he is making the birds our school masters and teachers. It is a great and abiding disgrace to us that in the Gospel a helpless sparrow should become a theologian and a preach to the wisest of men. We have as many teachers and preachers as there are little birds in the air. Their living example is an embarrassment to us. Everyday he feeds and nourishes innumerable little birds out of His hand.'"

God feeds the birds but not like you feed our pet animals. He provides food but they must gather it up (Psa. 104:27-28). Jesus was specific in naming one type of bird -- the Raven. He said, "Consider the ravens..." (Luke 12:24). The ravens must go and collect the food that God provides (Job 38:41; Psa. 147:9).
We have faith but we must do our part. The birds show us that faith and works can and do go together.
The central theme of Christ's teaching is how God uses the lesser to establish the greater. He tells us we are much better than the birds. He condescends so low as to take thought for the needs of these little creatures as a tender, loving Father; He looks upon all these small details, not forgetting one, then asks us why we should be anxious about ourselves. We know God takes care of us because we are much better than they. If He condescends so low as to tend to such small things, why would He overlook the greater things?
Anxiety about anything that is outside of our control is the sin of unbelief. We need to focus on what we do with our time today while asking the Lord's guidance. That is the key.
We don't need anxiety about the future; we need to learn the lesson the Israelites learned when they gathered manna day after day. They learned what it meant to eat daily out of the hand of the Lord. Those are blessed lessons. I am not a stranger to them. It is a blessed thing when we understand what it is to look to the Lord for His provision for today. Tomorrow we look to His provision for tomorrow.
The Greek word from which the word better was taken is diaphero which means "To be of more value." The word diaphero is translated as "better" three times in the New Testament. Our text is one: "Behold the fowls of the air: for they sow not, neither do they reap, nor gather into barns; yet your heavenly Father feedeth them. Are ye not much better [diaphero] than they?" MAT 6:26.,
The meaning is, "Of more value." Wherein do we have more value than those innocent little creatures? Jesus speaks of them in terms of value in MAT 10:29- 31, "Are not two sparrows sold for a farthing? and one of them shall not fall on the ground without your Father. But the very hairs of your head are all numbered. Fear ye not therefore, ye are of more value than many sparrows."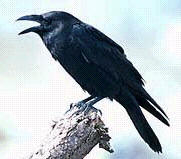 Let's consider how Christ restored the purpose of God in our human nature; for God to accept us in Christ, it was necessary for Christ to be very man. He became the image of God in our human nature. HEB 1:3 speaks of Jesus, "Who being the brightness of his glory [of the Father], and the express image of his person, and upholding all things by the word of his power, when he had by himself purged our sins, sat down on the right hand of the Majesty on high."
"Consider the ravens; for they neither sow nor reap; they have neither store-house nor barn; and God feedeth them." He was speaking to his disciples, and it was as much as to say, "If God takes care of the ravens, he will certainly take care of you; so you need not be anxious or afraid.
---
"I will be their God, and they shall be my people."

- 2Co_6:16
What a sweet title: "My people!" What a cheering revelation: "Their God!" How much of meaning is couched in those two words, "My people!" Here is speciality. The whole world is God's; the heaven, even the heaven of heavens is the Lord's, and he reigneth among the children of men; but of those whom he hath chosen, whom he hath purchased to himself, he saith what he saith not of others-"My people." In this word there is the idea of proprietorship. In a special manner the "Lord's portion is his people; Jacob is the lot of his inheritance." All the nations upon earth are his; the whole world is in his power; yet are his people, his chosen, more especially his possession; for he has done more for them than others; he has bought them with his blood; he has brought them nigh to himself; he has set his great heart upon them; he has loved them with an everlasting love, a love which many waters cannot quench, and which the revolutions of time shall never suffice in the least degree to diminish. Dear friends, can you, by faith, see yourselves in that number? Can you look up to heaven and say, "My Lord and my God: mine by that sweet relationship which entitles me to call thee Father; mine by that hallowed fellowship which I delight to hold with thee when thou art pleased to manifest thyself unto me as thou dost not unto the world?" Canst thou read the Book of Inspiration, and find there the indentures of thy salvation? Canst thou read thy title writ in precious blood? Canst thou, by humble faith, lay hold of Jesus' garments, and say, "My Christ"? If thou canst, then God saith of thee, and of others like thee, "My people;" for, if God be your God, and Christ your Christ, the Lord has a special, peculiar favour to you; you are the object of his choice, accepted in his beloved Son.
---
The Letter versus the Spirit
[God] also made us sufficient as ministers of the new covenant, not of the letter but of the Spirit. (2Co_3:6)
The "letter versus the Spirit" is another contrast between living by the old covenant or by the new. This is another choice that determines whether we are functioning by man's sufficiency or by God's.
A life that is being developed "of the letter" is one that is built on rules and regulations. We cannot become a child of God by rules. We cannot develop our lives as God's children by regulations. No list of demands (including even the law of God itself) could ever bring us, or develop for us, a life with God. All rules and regulations (including God's law) come without resource. They are a list of requirements, not a supply of adequacy. They call for an observable response. They provide no power to produce the required effect.
Consider circumcision, which was required by the law of God for the Israelites. "And on the eighth day the flesh of his foreskin shall be circumcised" (Lev_12:3). This was to be a sign acting as a reminder to God's people that they were His. Implementing that regulation did not inherently change the life of any Jew. Physical, external circumcision (that is, circumcision "by the letter") did not make a change in the heart of the one circumcised. It takes an inner working of God to produce a true child of God (in Romans 2 language, a "true Jew"). "For he is not a Jew who is one outwardly, nor is that circumcision which is outward in the flesh; but he is a Jew who is one inwardly, and circumcision is that of the heart, in the Spirit, and not in the letter." (Rom_2:28-29). God births His children and develops their lives through a work in their hearts by the Holy Spirit.
The kingdom of heaven is "of the Spirit." It is not about external "do's and dont's" (such as, whether to follow the standard of God's law concerning certain foods). "For the kingdom of God is not food and drink, but righteousness and peace and joy in the Holy Spirit" (Rom_14:17). Entrance into God's family, as well as development as God's children, does not hinge on following various regulations. Rather, it is about the Holy Spirit supplying heavenly blessings in the hearts of those who trust in the Lord. Life with God is always "of the Spirit " (God's sufficiency), not "of the letter" (man's sufficiency).
Father, I admit a tendency to reduce life with You to following regulations. Help me to live by the work of Your Spirit within my heart. Through Christ I pray, Amen.
---
Nathan
("given by God".)

1. The prophet who gave David God's assurance of the perpetuity of his seed and throne (notwithstanding temporary chastening for iniquity). God by Nathan commended David's desire to build the temple, but reserved the accomplishment for his son Solomon, the type of Him who should build the true temple (2 Samuel 7; 1 Chronicles 17). Nathan speaking first of himself had said, "do all that is in thine heart" (compare 1Ki_8:18). God sometimes grants His children's requests in a form real, but not as they had proposed. His glory proves in the end to be their truest good, though their wishes for the time be crossed. Nathan convicted David of his sin in the case of Uriah by the beautiful parable of the poor man's lamb (2Sa_12:1-15; 2Sa_12:25; Psalm 51).
Nathan conveyed Jehovah's command to David, to name Solomon" Jedidiah," not as a mere appellation, but an assurance that Jehovah loved him. Nathan was younger than David, as he wrote with Ahijah the Shilonite and Iddo the seer" the acts of Solomon first and last" (2Ch_9:29). To Nathan David refers as having forbidden his building the temple on account of his having had "great wars" (2Ch_22:1-10; 2Ch_28:2). Nathan secured the succession of Solomon by advising Bathsheba to remind David of his promise (1Ch_22:9, etc.), and to inform him of Adonijah's plot, and by himself venturing into the king's presence to follow up Bathsheba's statement. Nathan by David's direction with Zadok the priest brought Solomon to Gihon on the king's own mule, and anointed him king (1Ki_1:10-38).

---
Prayer Requests
===============
Please contact us for your prayer requests at
http://www.shalomindia.com/prayer.php
Read & search online Holy Bible at http://www.shalomindia.com/bible.html
---
Today's Bible Verse
"And He said to His disciples, "Therefore I tell you, do not be anxious about your life, what you shall eat, nor about your body, what you shall put on. For life is more than food, and the body more than clothing. Consider the ravens: they neither sow nor reap, they have neither storehouse nor barn, and yet God feeds them. Of how much more value are you than the birds!" (Luke 12:22-24 )

This E-Info Service is from:
Shalomindia.com Faith Ministry, Mumbai, INDIA.
http://www.shalomindia.com

Read this news letter online at http://www.shalomindia.com/newsletter/may05.htm
---
(c) 1998-2005 Shalomindia.com , Free to share all the message/articles through emails or non-commercial web sites..
---
Home Page | Newsletters Archives