WELCOME to the MAR - 2005 edition of the Shalomindia.com E-Info Service.
You can send us inspiriting messages or testimonies to share among our readers...
Most of the messages are collected from various spiritual e-articles, books and religious sites. If you find any copyright matter, kindly inform us to remove from the site.

---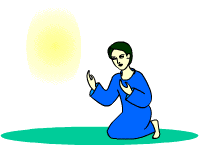 Psalms 126:5 - They that sow in tears shall reap in joy.

Let us sow in tears & reap in joy.

Let's Meditate today few verses from Bible
1) Gene 21: 14-17. 2) Esra 10:1
3) Neh 1::4 3) Num 14:1

Hagar is crying for water in wilddnes for her son.

According to God,s words , Abraham rose early in the morning, and took bread and a skin of water, and gave it to Hagar, putting it on her shoulder, along with the child, and sent her away. And she departed, and wandered in the wilderness of Beer-sheba. When the water in the skin was gone, she cast the child under one of the bushes.Then she went, and sat down over against him a good way off, about the distance of a bowshot; for she said, "Let me not look upon the death of the child." And as she sat over against him, the child lifted up his voice and wept. And God heard the voice of the lad; and the angel of God called to Hagar from heaven, and said to her, "What troubles you, Hagar? Fear not; for God has heard the voice of the lad where he is Arise, lift up the lad, and hold him fast with your hand; for I will make him a great nation." Then God opened her eyes, and she saw a well of water; and she went, and filled the skin with water, and gave the lad a drink.

The cause of our cry in our life may be due to our own mistakes...

Whatever may be our weakness and inability, in our brocken stage God is not asking for us Why ?? But when if you run in to the cross of calvery, dear child of God , our God is able to hear our tears. When we cry in loud voice in your brocken stage , the heaven will hear our voice. The angel of the lord will be sent to us for our need.

Let's think about Ezra's life

While Ezra prayed and made confession, weeping and casting himself down before the house of God, a very great assembly of men, women, and children, gathered to him out of Israel; for the people wept bitterly. God heard his voice.

The words of Nehemi'ah the son of Hacali'ah. and the wall of Jerusalem is broken down, and its gates are destroyed by fire."
When I heard these words I sat down and wept, and mourned for days; and I continued fasting and praying before the God of heaven. And I said, "O LORD God of heaven, the great and terrible God who keeps covenant and steadfast love with those who love him and keep his commandments; let thy ear be attentive, and thy eyes open, to hear the prayer of thy servant which I now pray before thee day and night for the people of Israel thy servants, confessing the sins of the people of Israel, which we have sinned against thee. Yea, I and my father's house have sinned.

In Nehemi'ah's life , he was a working in palace . There was no problems in his life . but he takes his people's problems as his problems.

When Nehemi'ah cried, the god of heaven open a way . The construction of wall of Jerusalem, was started wonderfully got an inspiration from God . The King granted the letter to the states, hourse troop, soldiers etc.. etc..

If a child of God cried , God will provide their needs. The devils power is not able to overcome with a power of God. Dear Child of God, He who is in us is grater than is in the world. The word of God is in us is able to strenthen us . Let us cry for the empty land and the people in it. . There are mothers who crying for the child, wife who crying for the drunken husband. Whatever the problem , lets come to cross and run there . The blood acually poured out in the calvery around 200 years ago is able to solve our sin, decreese our sorrows.... Lets strenthen ourself for good deeds. The LORD is nigh unto them that are of a broken heart; and saveth such as be of a contrite spirit. 19 Many are the afflictions of the righteous: but the LORD delivereth him out of them all. Psals 34. ..

Psalms 126:5 - They that sow in tears shall reap in joy.

God is nearer to those are in broken heart. He delivers who are in decreate mind. Also if you sow with tears you can harvest with triumph.
---
Mountain Moving Faith
In I Corinthians 13:2, Paul comments on faith that moves mountains:
"And though I have the gift of prophecy, and understand and all mysteries, and all knowledge; and though I have ALL faith, so that I could remove mountains..."
Paul recognized that it took 'all' or total or 'full-grown faith' to move mountains'. You don't move mountains with seed faith; you move mountains with 'all' faith. It takes fully developed faith to relocate a mountain!. Paul recognized this and Jesus taught it. In Matthew 17, we read a certain man came to Jesus who had a son who was lunatic. Paul recognized that it took 'all' or total or 'full-grown faith to move mountains'. You don't move mountains with seed faith; you move mountains with all faith. It takes fully developed faith to relocate a mountain!

This caused him to fall into the fire and into the water. The man came to Jesus and said: ' I brought him [my son] to thy disciples and they could not cure him' (Matt 17:16). They could not cure him! "And Jesus rebuked the devil; and he departed out of him: a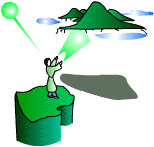 nd the child was cured from that very how.
Then came the disciples to Jesus apart and said. Why could not we cast him out?"(Matt 17:18,19).
The disciples said, in effect: "Lord, we gave that fellow the full 'Charismatic treatment': we shook him, we said In the Name of Jesus,' we did all these things, and that devil didn't come out. Why?"
The King James version says, "And Jesus said unto them, Because of your unbelief... " (Matt 17:20). In the original Greek, that word is not 'unbelief ' but rather "little faith" or "undeveloped faith."
Jesus was not talking about unbelief (a negative force). These disciples would not have tried to cast out devils if they had been in unbelief. Unbelief is a negative thing that disbelieves, whereas the problem of these nine apostles was "little faith." They were trying, but with not enough faith, to do the job. So, then, the disciples were not unbelieving; they simply did not have sufficiently developed faith to cope with the problem. They had "seed-faith" and a "tree-sized" problem.
Jesus went on to teach them that even though their faith was undeveloped, if they would allow it to grow as a grain of mustard seed, they could eventually "say unto this mountain. Remove hence to yonder place; and it shall remove and nothing shall be impossible unto you" (Matt 17:20).
In other words, nothing shall be impossible to you if you have developed faith, faith that has grown and continues to grow!
Growing faith is a scriptural concept. In Paul's writings he talks to us in this metaphor: he says that we are changed "from glory to glory" and "from faith to faith" (2Cor 3:18; Rom 1:17). Faith grows in a series of steps or seasons.
---
Jesus Gives Power for Living
Pardon, purpose, and peace are not all that He can give. Jesus of Nazareth is the only one who can give you power to live a new life.
Frequently men and women say, "I would like to become a Christian, but if I do, I am sure that I will never be able to live the life. You don't know the mistakes that I have made, the resentments that I have, my tendencies to sin, my immorality, heavy drinking, drug addiciton, cruel tongue and many, many other problems. I do not believe that I could live the Christian life."
But, as they have received Christ into their lives, these same people have discovered that the Christian life is a supernatural one and that Jesus literally changes them - their attitudes, their actions, and their desires. When we trust in Him, Jesus Christ literally comes to live within us and lives His life in and through us. Therefore, it is no longer what we do through our own self-effort, but what He does supernaturally, because He is the one who provides the power, and we are merely the instruments through which He releases that power.
---
Fear is to the devil what faith is to God.
Fear Attracts Evil Pow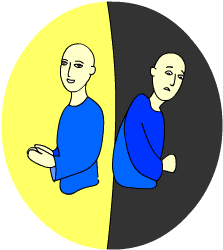 ers. Faith brings God into our daily lives. It acts as a magnet and draws or attracts the power of God into our lives. Faith brings His life into ours! Now, fear acts in the same way. It too is a very "attracting" force. It attracts evil powers of darkness. These are "deadly" forces because that is what they produce - death! They can kill our joy and peace in the Holy Spirit.
If life in God speaks of love, joy, peace... then death speaks of hatred, sadness, distress ...! Fear opens the door of our heart. This allows all kinds of dark, evil thoughts and feelings to come in. When our emotions are filled with fear, this can lead to slavery and bondage to fear. We will end up serving what we fear!
Faith And Fear Do Not Mix
Like oil and water, faith and fear do not mix. If we start with faith and express it by resisting the devil, our enemy will flee from us (Jas: 4:7). If we cover in fear, the powers of darkness (the devil and demons) will enslave us and faith will flee from us. It is just that simple.
---
SALVATION PRAYER
Pray this prayer from your heart, and speak it out loud if you are able.
Lord Jesus I believe that you are the Son of God and you became a man to suffer and die on a cross to pay the penalty for my sins, and I believe that you rose from the dead and you are alive, and you are God of the universe. I confess that I have sinned against you and against people, and I pray that you will forgive me and wash me clean through the blood that you shed on the cross. I pray that You and God the Father, and the Holy Spirit, will come and live in me and I will live in You. I give my life to You to do Your will and not my will. Please give me the faith to believe all the promises that You have written to me in Your word the Holy Bible. Lord Jesus please baptize me in the Holy Spirit and fill me with your presence. Please give me the strength and the faith to accomplish the plans and the destiny that You have for me and give me the courage to be a witness for You. Please fill me with Your love and compassion for people so I can be like You, I pray all these things in Jesus name, Amen.
Congratulations! Your name is written in heaven and you are now a citizen for eternity.
---
Quotes
Where there is love there is life.
Author: Gandhi

Love cures people, both the ones who give it and the ones who receive it.
Author: Dr. Karl Menninger

One word frees us of all the weight and pain of life: that word is love.
Author: Sophocles

Patience with others is Love, Patience with self is Hope, Patience with God is Faith.
Author: Adel Bestavros

Love is the triumph of imagination over intelligence.
Author: Henry Louis Mencken


The greatest healing therapy is friendship and love.
Author: Hubert H. Humphrey
---
Prayer Requests
===============
Please contact us for your prayer requests at
http://www.shalomindia.com/prayer.php
Read & search online Holy Bible at http://www.shalomindia.com/bible.html
---
Today's Bible Verse

Romans 5:8 says, "God demonstrates his own love for us in this: While we were still sinners, Christ died for us."
Acts 2:38, "Repent and be baptized, every one of you, in the name of Jesus Christ for the forgiveness of your sins. And you will receive the gift of the Holy Spirit."

This E-Info Service is from:
Shalomindia.com Faith Ministry, Mumbai, INDIA.
http://www.shalomindia.com

Read this news letter online at http://www.shalomindia.com/newsletter/mar05.htm
---
(c) 1998-2005 Shalomindia.com , Free to share all the message/articles through emails or non-commercial web sites..
---