WELCOME to the July - 2007 edition of the Shalomindia.com E-Info Service.
You can send us inspiriting messages or testimonies to share among our readers...
Most of the messages are collected from various spiritual e-articles, books and religious sites.
---
Is there anything too hard for GOD?
Ah, Lord God! Behold, You have made the heavens and the earth . . . There is nothing too hard for You . . . Behold, I am the LORD, the God of all flesh. Is there anything too hard for Me? (Jer_32:17, Jer_32:27)

In a few brief days, we have meditated upon many of the strategic promises of God. When considering promises, the ability of the one making the promises is a vital concern. If we examine God's ability and His promises with an open heart, growth in faith will always be the result. Here, God's ability is explained by His role in creation and by His rule over mankind.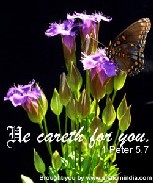 How able is God to fulfill His promises? Well, Jeremiah saw the implications of God being the creator of the universe. "Ah, Lord God! Behold, You have made the heavens and the earth by Your great power and outstretched arm. There is nothing too hard for You." Whatever the Lord promises to do has behind it His ability to create everything that has ever existed. "In the beginning God created the heavens and the earth" (Gen_1:1). He was able to do this merely by His spoken word. "God said, 'Let there be light; and there was light' " . . . "Then God said, 'Let there be a firmament in the midst of the waters . . . and it was so' " (Gen_1:3, 6-7).

The Psalmist understood the proper response to such a great God. "By the word of the LORD the heavens were made, And all the host of them by the breath of His mouth . . . Let all the earth fear the LORD; Let all the inhabitants of the world stand in awe of Him. For He spoke, and it was done; He commanded, and it stood fast" (Psa_33:6, Psa_33:8-9).

When our God, the creator of heaven and earth, speaks forth His promises, we should bow before Him and say with Jeremiah, "There is nothing too hard for You."
The Lord later added a perspective for Jeremiah that should intensify our appreciation of His ability. "Behold, I am the LORD, the God of all flesh. Is there anything too hard for Me? " Our God not only created the universe, He is the ruler of all of humanity. The Psalmist also saw this truth. "The LORD brings the counsel of the nations to nothing; He makes the plans of the peoples of no effect. The counsel of the LORD stands forever, The plans of His heart to all generations" (Psa_33:10-11). When our God, the ruler of all nations, addresses His promises to us, we can respond rhetorically, "Is there anything too hard for [Him] ?"
Ah, Lord God, You are the creator of all the universe, and You are the ruler of all mankind. Surely, You are able to do everything that You have ever promised. Nothing is too difficult for you!

The Lord Promising to Build His Church
You are Peter, and on this rock I will build My church, and the gates of Hades shall not prevail against it. (Mat_16:18)
"The" promise of all promises that God has made concerns the gift of everlasting life. "And this is the promise that He has promised us - - eternal life" (1Jo_2:25). All who respond to this promise in faith become those addressed by Jesus in the promise to build His church. "I will build My church. "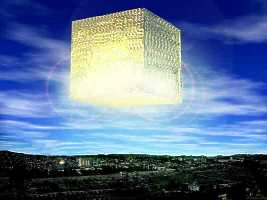 The Lord gave this promise after Peter's accurate confession of Jesus being the Messiah. "You are the Christ, the Son of the living God" (Mat_16:16). As Jesus confirmed this confession, He let Peter know that he did not come up with that insight on his own. "Blessed are you, Simon Bar-Jonah, for flesh and blood has not revealed this to you, but My Father who is in heaven" (Mat_16:17). Then, Jesus contrasted the meaning of Peter's name with the kind of foundation He would lay for His church. "You are Peter (in Greek, "Petros," a stone), and on this rock (in Greek, "petra," a bedrock) I will build My church. " Peter's name signified a stone, that which could be easily moved or held within one's hand. Jesus would not build His church on mere men, which at best are like movable stones. Rather, he would build upon a bedrock foundation that could not be moved. He would build upon the rock-solid truth contained in Peter's confession. "You are the Christ, the Son of the living God" (Mat_16:16). Yes, the Lord Jesus Christ Himself would be the actual foundation for the church. "For no other foundation can anyone lay than that which is laid, which is Jesus Christ" (1Co_3:11).
This picture of Jesus Christ as the foundation of His church is a fulfillment of one of the great prophetic promises the Lord made long ago. "Therefore thus says the Lord God: 'Behold, I lay in Zion a stone for a foundation, a tried stone, a precious cornerstone, a sure foundation' " (Isa_28:16). Also, it is in perfect harmony with the Old Testament revelation of God as our Rock. "Oh come, let us sing to the LORD! Let us shout joyfully to the Rock of our salvation" (Psa_95:1). This rock-solid, anointed King (Jesus, the Messiah) would be fully effective in His mission. Even Satan and his demons, the authorities ("gates") of death and darkness ("Hades"), would be unable to prevent the fulfillment of His promise to build His church: "and the gates of Hades shall not prevail against it. "
Lord Jesus, I also confess You as the Christ, the Son of the living God. I praise You as the rock-solid foundation of Your church collectively - - and of my life individually. Please use me as You fulfill Your promise to build Your church. In Your mighty name I pray, Amen.
Hoekstra, Esword

We have done that which was our duty to do...
"When ye shall have done all those things which are commanded you, say, We are unprofitable servants: we have done that which was our duty to do."-- Luk_17:10.

IN CHRIST'S service there are no hours when we cease to be His bondservants, or pass from under His eye. We are always His, always at His disposal, always bound to ask, what He would have us do. In this there is no hardship, because He knows our frame, and understands the complex machinery of life needs time to cool and rest and recreate itself. We remember that our Lord bade His disciples leave the crowded lake-side, to come with Him apart and rest awhile. He knows that we need rest and change, but He would keep these hours of relaxation under His own command because they are often the most perilous to the soul's health. How often, when we have been engaged in earnest service to others for Christ's sake, we are inclined to say: "Now we may have a good time for ourselves; we may relax the girdle, we may sit down to meat." We are inclined to act at such times as if we were off duty, and as though our Lord had no jurisdiction over us.
But it is when we have done our Master's work that He sometimes says to us; "You have been so taken up with My work that you have neglected Me. You have thought more of the depth and straightness of the furrow; more of the wool and safety of the flock, than of the One for whom you work. Give Me a little of your thought and love! Make ready where-with I sup; gird thyself and serve Me!"
Yea, our Lord Jesus wants our love, and He will not be satisfied if we give time, energy, and thought to His service, and forget Him.
When we have done all that Christ asks of us, we have nothing to be proud of. Our good works do not earn our salvation, nor merit anything at the hand of our Saviour. Our uttermost service is only our bounden duty and privilege. It is a blessed thing, when we are wholly yielded to obey Him, for His service is perfect freedom from envy, dissatisfaction with our lot, jealousy of others, and pride. The wonder is that He takes us into partnership with Himself (Joh_13:13-16).

PRAYER
Lord, we go to our daily work; help us to take pleasure therein. Show us clearly what our duty is; help us to be faithful in doing it. Give us strength to do, patience to bear; by our true love to Thee, make unlovely things shine in the light of Thy great love. AMEN.

We are ambassadors for Christ
"For the love of Christ constraineth us....We are ambassadors for Christ, as though God did beseech you by us."-- 2Co_5:14-20.

AN AMBASSADOR may live in a foreign country, but he does not belong to it. He is there to represent his own country, and no opportunity of helping forward her interests is allowed to pass. We have to represent Christ to the world. The word "constrain" suggests a constant pressure, an urge, as when water is forced down a certain channel. St. Paul says: "I act as I do because I am under the spell of a mighty constraint; I can do no other; I am not master of myself. Do not wonder at what may seem to be unusual and extravagant. Attribute my eccentricity to Christ--His love actuates me, and bears me along."
What is meant by "the love of Christ?" Is it His to us, or ours to Him? It is impossible to divide them thus, for they are one. As the sunlight strikes the moon, and is reflected from her to the earth, so the love we have to Christ, or to man, is the reflection of His love to us. All love in our cold and loveless hearts is the emanation and reflection of the Love which began in Him, was mediated to us in Calvary, and is reflected from us, as sunlight from a mirror.
The love of Christ does not constrain all Christian people, because they do not understand the profound significance of the Cross; but when the soul once appreciates that, and passes through the gate of death into the life of God, then it begins to feel the constraining love of Christ. The pivot of our life must be the Risen Christ: "We no longer live unto ourselves, but unto Him who rose again." We sometimes hear people described as eccentric---out of the centre. A man is ex-centric to the world when he is concentric with Christ. It is thus that we become a new creation. When by faith we are united to Jesus Christ in His Cross and Grave, the transition is made. We pass over into the Easter life. He has reconciled us unto Himself, and has given to us the ministry of reconciliation--therefore we are ambassadors. We have to proclaim forgiveness to the sinful, the loosening of their chains to those who sit in prison-houses, and the near approach of salvation to all (Isa_52:7-10).

PRAYER
This empty cup for Thee to fill;
This trembling heart for Thee to still;
This yielded life to do Thy will,
O Lord of Love, I bring Thee. AMEN.

Prayer Requests
===============
Please contact us for your prayer requests at
http://www.shalomindia.com/prayer.php
Read & search online Holy Bible at http://www.shalomindia.com/bible.html
---
Today's Bible Verse
"My grace is sufficient for thee: for My strength is made perfect in weakness. Most gladly therefore will I rather glory in my infirmities, that the power of Christ may rest upon me."-- 2Co_12:9.


Psa 20:1 May the Lord hear thee in the day of tribulation: may the name of the God of Jacob protect thee.
Psa 20:2 (20:3) May he send thee help from the sanctuary: and defend thee out of Sion.

Psa 20:6 (20:7) The Lord fulfil all thy petitions: now have I known that the Lord hath saved his anointed. He will hear him from his holy heaven: the salvation of his right hand is in powers.
Psa 20:7 (20:8) Some trust in chariots, and some in horses: but we will call upon the name of the Lord, our God.

This E-Info Service is from:
Shalomindia.com Faith Ministry, Mumbai, INDIA.
http://www.shalomindia.com

Read this news letter online at http://www.shalomindia.com/newsletter/july07.php
---
(c) 1998-2007 Shalomindia.com , Free to share all the message/articles through emails or non-commercial web sites..
---
Home Page | Newsletters Archives